Frontier Space War 2. Multiplayer or Solitaire.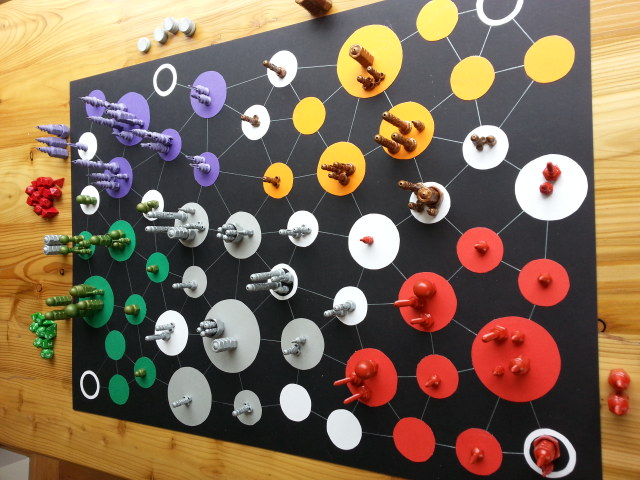 Outline. This strategy game models a possible future in which various groups have colonised the nearest habitable star systems and then started to dispute territory, economics, ideology, and alliances. It can accommodate up to five players or alternatively a single player can play each faction in turn to evolve a narrative and perhaps put names to all the star systems and major warships.
The structure of the game can support a variety of backstories. Backstory 'A' relates a geopolitical expansion of various human factions into space. Alternative backstories appear at the end.
Backstory A. In AD 2050 humans discover a warp-drive mechanism that can enable ships to travel to star systems within 20 light years in about 3 months. This fortuitous discovery came at a time when ecological, climatic, population, and political crises on Earth had almost reached breaking point. European backed missions settled large numbers of people on habitable planets in six nearby star systems forming what became known as the Terran Sphere governed according to Synarchist principles by a vast self-perpetuating bureaucracy.
Over the following decades various factions dissatisfied with the philosophy and politics of the Terran Sphere of seven worlds ventured further into space to colonise other worlds.
Eurasian backed colonists established Vostok on Soviet Neo-Communist principles where hierarchies of endless committees decide everything.
Colonists backed by the Americas established Kalifornia on Darwinian and Capitalist principles where wealth and power and a certain amount of democracy decides everything.
Various mystically and religiously inclined groups, particularly the New-Age-Ecumenicists backed the establishment of Nirvana which operates as an Aquarian Theocracy run by those considered the most enlightened.
Exactly who initially conspired to back the establishment of R'lyeh remains a matter of ongoing debate, but it attracted a mixed consortium of misfits, occultists, illuminati, anarchists, rebels, devils, and chaoists who eventually settled for the collective name of Goths. R'lyeh operates as a Magiocracy run by those considered to have the most magical charisma by popular acclaim.
Within a century the four splinter factions based on Vostok, Kalifornia, Nirvana, and R'lyeh colonised secondary systems in their vicinities and developed increasingly distinct cultures and slightly divergent technologies. Despite interstellar trade and commerce, tensions over resources and the control of unaligned worlds led first to the Treaty of Terra which recognised spheres of influence and neutral worlds, and then to its breakdown as diplomacy failed and factions started building warships and interstellar struggles began.
The conflict plays out with each faction using limited numbers of huge and expensive vessels. Factions can also employ specialised command vessels denoted as Flagships which add to the combat capabilities of flotillas of ships and which factions can exchange in alliances. Some backstories attribute the enhancements conferred by flagships to AI computers, others to genetically enhanced human capabilities.
Factions. Philosophy Colour Capital World Flagship AI Capability
Imperials Synarchists Silver Terra Tactical Attack and Defence
Soviets Communists Red Vostok Tactical Defence
Capitalists Darwinians Bronze Kalifornia Tactical Attack
Aquarians Mystics Green Nirvana Psychic Defence
Goths Occultists Purple R'lyeh Psychic Attack
The following chart shows the ideological relationships of the five factions.
Individualist
l
l
(Goths) l (Capitalists)
l
l
Magical -----------------(Imperials)----- Rationalist
l
l
(Aquarians) l (Soviets)
l
l
Collectivist
Types of Vessel.
Cost Type Dice Number available/Faction
5 Fortress – Icosahedron D20. 4 (all)
5 Battleship – Dodecahedron D12 2 (1A, 4I)
4 B-Cruiser/H-Cruiser/P-Battleship/Monitor. – Octahedron D8 (2G, 2A, 2C, 2S)
3 Cruiser (Frigate/Fortress Carrier). – Cube D6 4 (6I) 2I 1
2 Destroyer – Tetrahedron D4 6 (all)
1 Frigate – Tetrahedron D4 (10I)
5 Flagship – Tetrahedron D4 3 (4I)
Star systems have production values 1, or 2, or 3, or (5, Earth), shown by relative size.
Sequential turns. Throw for first turn.
1) Count production from all occupied systems. Purchase extra vessels if possible and place at a Fortress. If no Fortress, purchase one if possible and place on a home system. Factions may store unused production as markers at a Fortress. The number of ship pieces provided reflects the maximum that a faction can maintain.
* Occupied means either a system held by a ship or fortress or a home territory not occupied by a rival.
2) Move any number of vessels from any star system to any adjoining one connected by a jump route. Frigates and Fortresses can only move if carried in a Frigate or Fortress carrier.
3) Black holes act as long-range jump ports, 1 turn to move directly from one to any other one.
4) Settle any conflicts arising. Risk protocols – up to 3 attack dice against up to 2 defence dice. Players may advance chosen ships into a round of combat in a concealed fashion and then mutually reveal them if desired.
Flagships. Act as combat modifiers to a whole flotilla, (all of a Faction's vessels at a system).
Tactical AI, Supercomputer using massive parallel calculation. Attack or Defence.
Dice Tetrahedron Cube Octahedron Dodecahedron Icosahedron
Attack or Defence +1 +2 +3 +4 +5
Psychic AI, Quantum computers with a mysterious degree of prescience. Attack or Defence. Roll each dice thrice. Use the highest of 3 rolls.
Initial dispositions, numbers and production values of star systems, and total.
7 Imperials 53 222 11 (16)
8 Aquarians 3 2 111111 (11)
6 Goths 3 22 111 (10)
8 Capitalists 3 22 11111 (12)
8 Soviets 3 22 11111 (12)
14 Neutrals 222 11111111111 (17) (Total systems, 51)
Combat Resolution, in each round attacker and defender must put forward at least one piece.
Attacker puts forward up to 3 units. Defender puts forward up to 2 units. Roll appropriate dice. (Adjust for flagships if present.) Pair off dice, attacker highest against defender highest, defender second highest against defender second highest, to determine casualty numbers, defender wins draws. Each side removes the appropriate number of casualties at will, (irrespective of the ship's dice scores).
Flagships do not need to participate in a round of combat to lend their enhancement to all vessels (including themselves) in a flotilla. A flotilla can only use one flagship to enhance it.
Rounds of combat continue until either all attacking, or all defending forces become eliminated. Or by mutual agreement participants can decline combat. Any non-home territory with more than one faction occupying it does not contribute production.
Treaties.
Any Faction may send a Flagship to assist an allied Faction. It then acts under the control of the receiving Faction. However, the Faction which gave it retains two options: -
a) In its own turn the donating Faction can reclaim it and order it to move.
b) At any point during combat involving the Flagship, the donating Faction can order it to change sides.
Special heavy vessels, dice modifications: -
(Aquarians) Dreadnought – D20 attack or defence, cost 6. (Instead of a second battleship.)
(Aquarians) Heavy Cruiser - D12 defence
(Capitalists) Pocket Battleship, (Goths) Battlecruiser - D12 attack
(Soviets) Monitor – D20 attack, D4 defence.
(All) Fortress in Carrier – D20 in attack or defence. Fortress Carriers can be scrapped to allow rebuilding elsewhere.
Starting Positions.
Each Faction places a Fortress at their capital, and one turns worth of produced ships anywhere on their home-worlds. A second round then begins, and conflict can occur.
Ships may remain on black holes, but no production can occur there.
Victory Points. – Control of Earth +1. Control of another Faction's Capitol +1. Loss of own Capital -1. Ending with more territory +1. Ending with less territory -1.
The Imperials start with more territory and productive capacity, but rival factions surround them. Alliances prove crucial to the outcome.
Alternative Backstories.
B, Alien Powers. The five factions represent Humans plus four other Alien species with advanced technology that all acquired interstellar capability at about the same time.
C, Neo-Feudalism. The factions represent the five 'Great Houses' that developed the biotech that gave them personal dominance over humanity and the ability to devise warp-drive. Flagships represent the personal command ships of senior family members and/or their clones.