Herewith a recent sci-fi board game system. The board represents space using star systems as nodal points connected by posible jump routes. All movement takes place simultaneously on the declaration of pre-wriiten destinations for starships. Combat between opposing ships that land on the same star system takes place by the simultaneous revealing of ship order of engagement and chosen tactical cards, the effects of which appear on the combat octagon charts. The system does not use dice or other sortilege procedures, everything depends on trying to anticipate an opposing commander's intentions in movement and tactical combat. Does this make it a game of chance or not?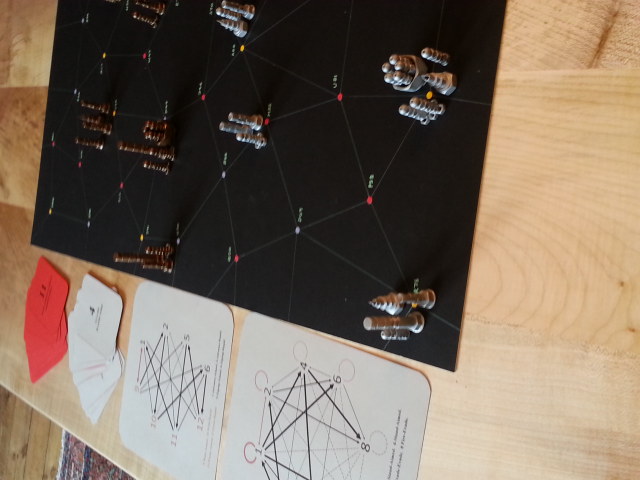 The various classes of starship and the starsystem bases all consist of various nuts and bolts and masonry anchors and plumbing fittings painted matt mettalic. Such pieces have the advantage of standing upright and not cluttering the board, vessels of the same class all have the same appearance, and the pieces have a pleasing weight. Combat takes place only at star systems. Although the system used a 2D board to represent 3D space we can consider the stars as lying both above and below the plane of representation.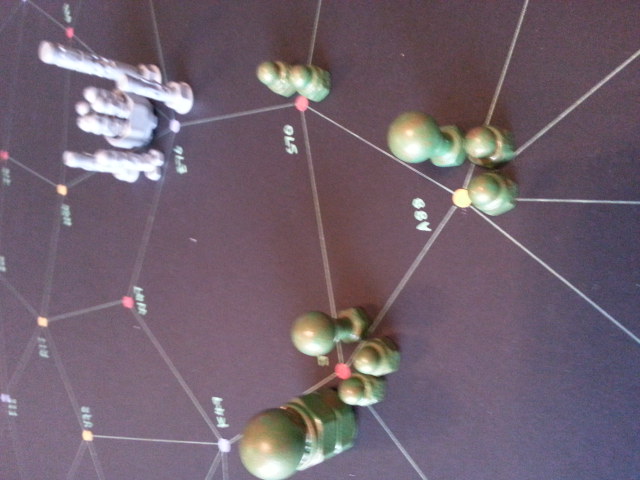 Legemeton flotilla threatens a Terran position.
Legemeton ~ Little Green Men of unknown origin and appearance.