The voyage of the Leif Erickson and the Garuda.
I would like to contact the people we had an extraordinary adventure with, in India around 1979.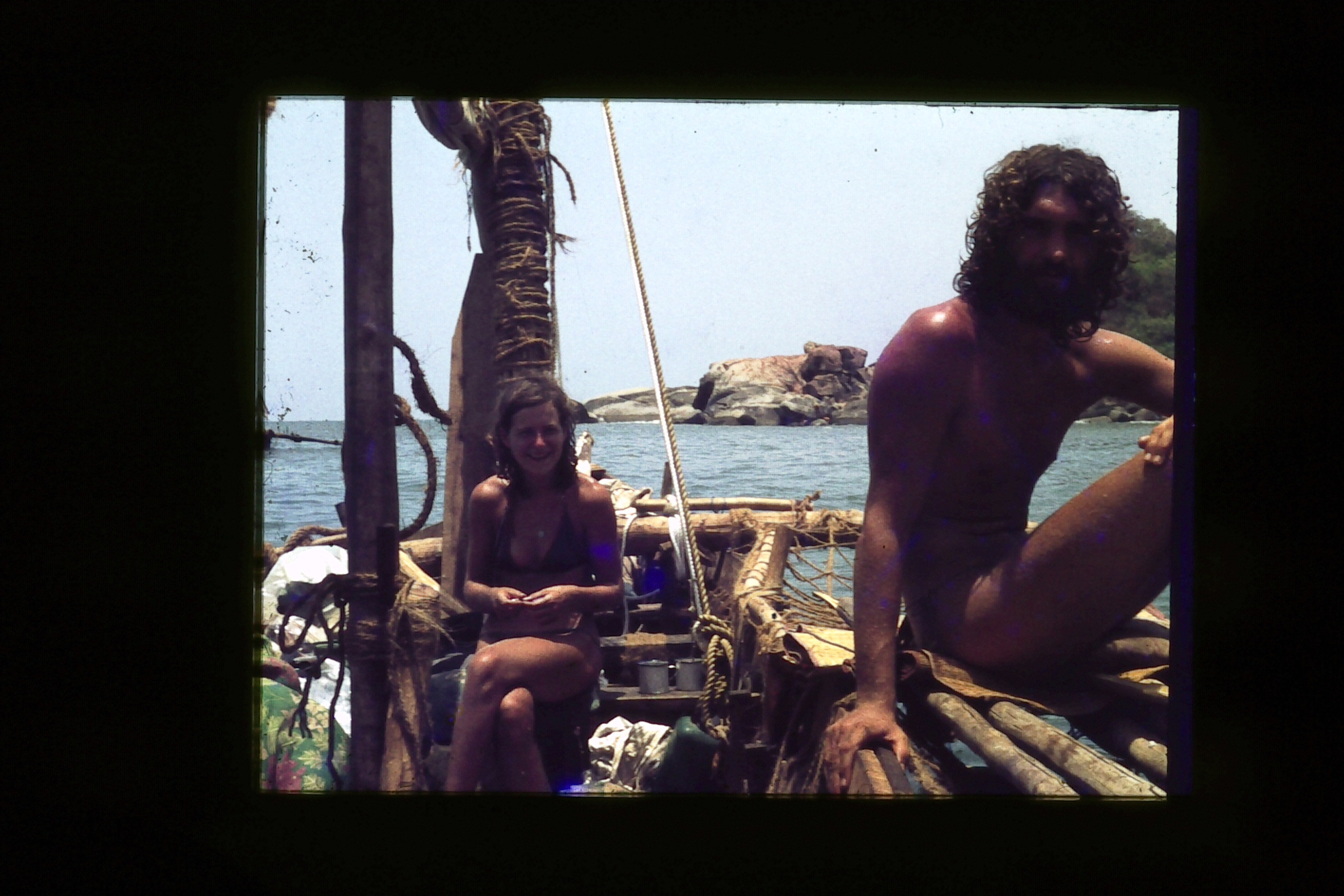 A group of us built two boats in North Goa, the Leif Erickson, and the Garuda, and sailed them south. The boatbuilding took four months, so we set off rather late in the season. Both boats were about 30 feet long and based on the hulks of old rotten dugout riverboats that we bought. We added freeboard planking, outriggers, rudders, masts and sails, and rowing benches and oars that we constructed ourselves having replaced the rotten parts of the hulls with local wood and caulked them with local materials that the native fishermen showed us how to make. Each boat also towed a small dugout canoe for shore visits.
Both boats set off southwards down the coast hoping to round the cape to Sri-Lanka, but we had set off rather late in the season for favourable weather. Nevertheless, we had a couple of good weeks sailing, occasionally pulling into incredibly remote fishing villages for water and supplies, to the astonishment of the inhabitants. The ocean seemed idyllic, we saw turtles and flying fish and swam in the phosphorescence at night, but then disasters struck:
The Garuda hit a rocky offshore island partway down the coast, the crew survived but the boat did not. The Leif Erikson continued and then ran into a typhoon in the night somewhere off the Malabar coast. After a titanic struggle against the typhoon the Leif Erickson limped into Cochin harbour with most of its rigging wrecked. An hilarious scene ensued when a motor launch from the Cochin Yachting Club came to inspect our craft, having heard that 'a British yacht had arrived'. 'That's us', we said. They took one disbelieving look at the bedraggled hippies in their ramshackle vessel and made a swift exit. We swapped the remains of the boat for a few crates of beer. After a few days, the group dispersed on their travels and we have not seen them since.
About 20 people became involved in various part of the boatbuilding and sailing, we would like to contact any of them with a view to exchanging memories and photos and maybe writing a book about it all.
They say that everyone on the planet lies no more than seven links of acquaintance away from anyone else, so if you know any of these people please send them this article, or if not please forward it to someone who you think might know of them.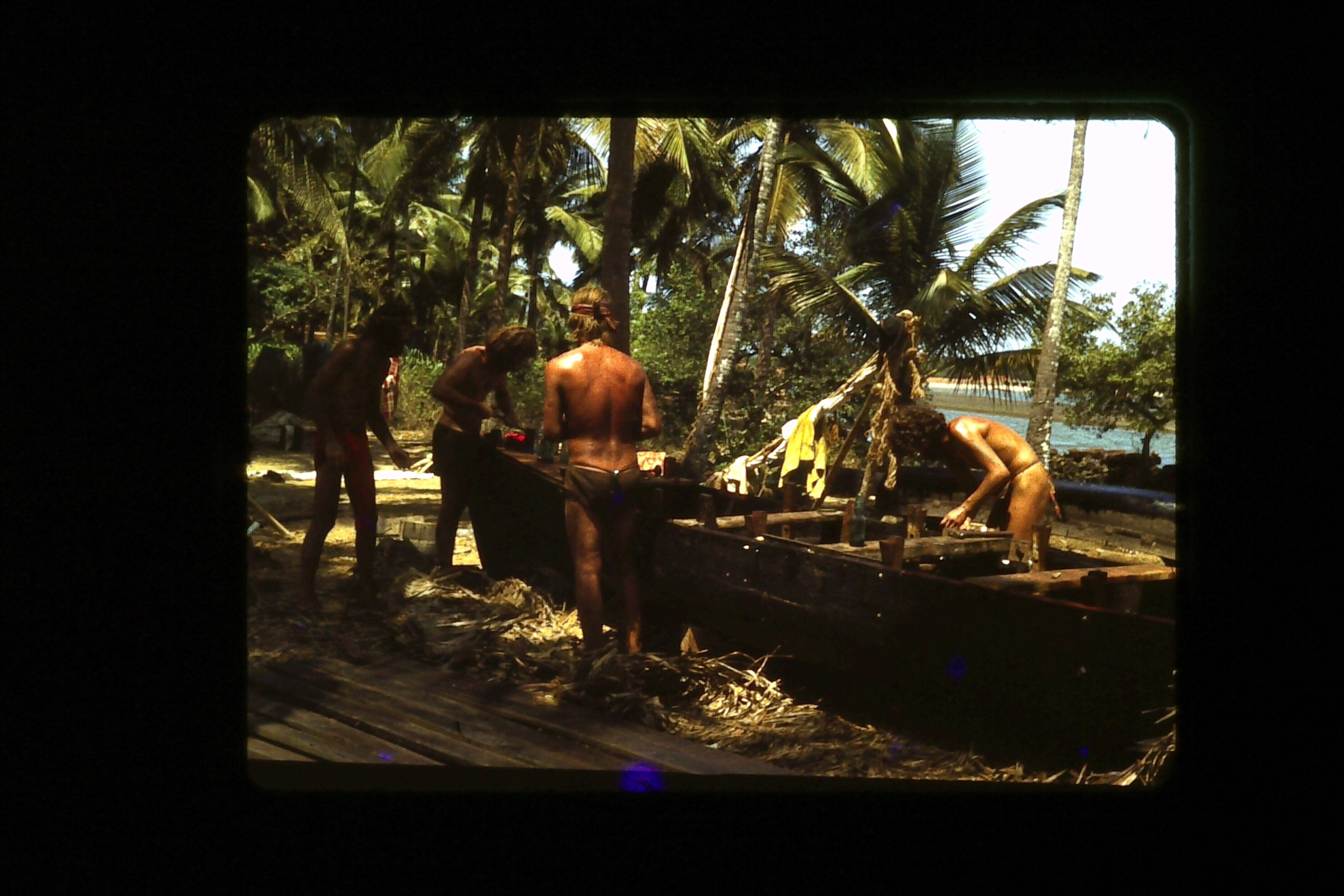 Herewith a list of those names we can remember: -
Leif Erickson Crew.
Pete Carroll, Christine Hutchinson, Simon Dunsford (British), Lars Jorgenson, fisherman, (Danish), Alfonso Lerna, racing driver, Alvaro Dominguez, chess master, (Spanish), Satayabodhi (Dutch guy, sannyasin name) Tony D'Souza (Anglo-Indian)
Garuda Crew.
'Herr Robert' as we called him, (German) he had worked on cruise liners, and a German couple. 'Saco' (Indonesian) and a skilled Chef. Ralph (Australian)
It would be great to hear from any of you 40 years on.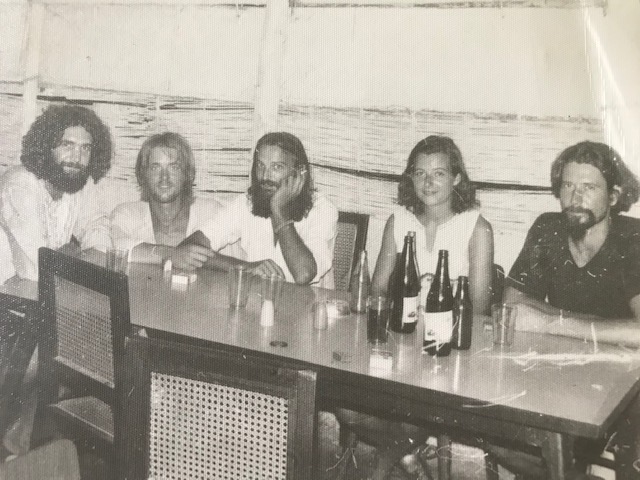 Regards, Pete and Chris Carroll, This email address is being protected from spambots. You need JavaScript enabled to view it.
I do not usually do verbal interviews online, I prefer the more leisurely medium of email interview as it gives more time to think, nevertheless I did become persuaded to do this one: -

https://thothermes.com/episodes/season-5-episode-4-the-birth-of-chaos-peter-j-carroll/
You can tell that I would have preferred more time as I keep saying, Well…. Erm….
Meanwhile a team of mathematicians and physicists crawl all over the Hypersphere Cosmology chapter of the Occultaris, eventually to appear in book form.