Februlog.
Esoteric Horticulture.
Finally, eight years after the planting of her seed, Circe, the largest of the three Mandrakes at Chateaux Chaos, has given birth. See the fruit of her labour below.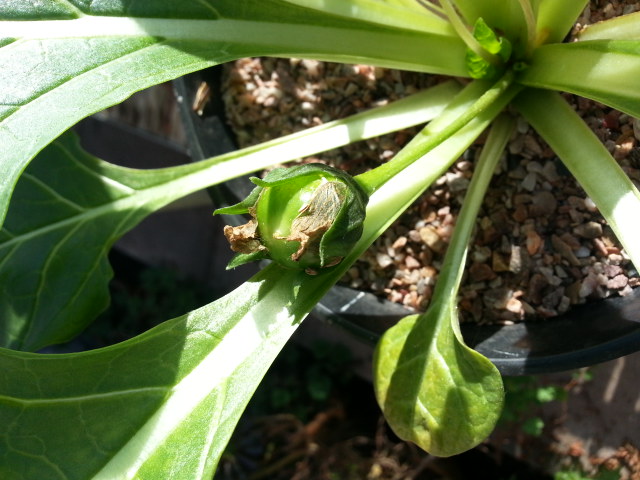 These somewhat antinomian plants (Mandragora Autumnalis), prefer to flower in autumn and to produce fruit in spring. During summer they shrivel back to their huge humanoid bifurcated taproots. Perhaps they do this to avoid insect pests or desiccation during the hotter months in their native Mediterranean lands.
I don't think they like it here on this chilly island, but I'll distribute the seeds amongst some Druids with instructions for their nurture.
Alternative Physics.
Below see a couple of graphs based on the observational data of a substantial number of Type 1A supernovae at various Redshifts. We can measure Redshifts with great precision but Apparent Magnitudes, particularly of transient events, much less precisely.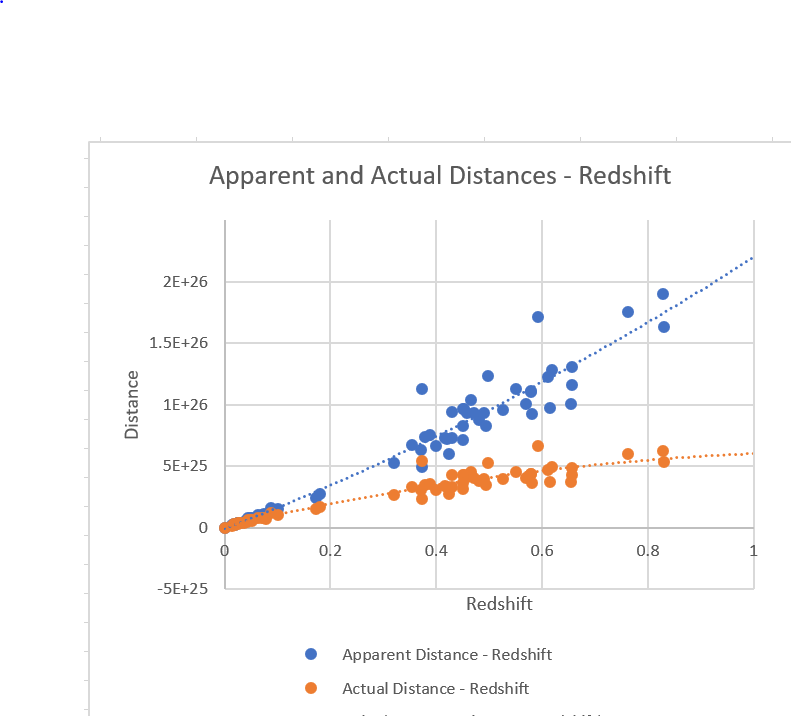 The blue line shows Apparent Distance at various Redshifts. Here I derive Apparent Distances from observed Apparent Magnitudes by converting Apparent Magnitudes to Fluxes and then applying the inverse square principle (taking the Magnitude of a Type IA supernova at 10 parsecs with negligible redshift as a baseline).
Clearly, any luminous object with a high Redshift will have a ridiculously vast Apparent Distance as the graph curves upwards. Herein lies the basic peculiarity that led to the hypothesis of 'Dark Energy' powering an apparent acceleration of the expansion of the universe.
The orange line shows Actual Distances against Redshifts. Here I derive Actual Distances from Apparent Distance by applying a Hyperspherical Lensing Formula based on the principle that we observe the Hyperspherical Universe in Stereographic Projection because of it positive spacetime curvature.
The derivation of this Hyperspherical Lensing Equation appears in section 7 here: -

https://www.specularium.org/hypersphere-cosmology
In this graph redshift 1 corresponds to half antipode distance and the distances to far supernovae become much more reasonable. The graph shows that the universe will have an antipode distance very close to 13 BLY.

The Universe does not expand, let alone does it have an accelerating expansion, so called 'dark energy' does not exist.
Great! The universe remains eternal, we can abandon the philosophical burdens of an apocalyptic beginning or ending to it.
Also see this https://www.specularium.org/component/k2/item/290-rotation-of-the-triangulum-m33-galaxy
Perhaps the final end of so called Dark Matter.
Magic/Culture/Politics
Identity and Individualism in the Pandaemonaeon.
A wandering Scholar dropped in for an evening last week. Forced to compete in an oversubscribed tournament profession with zero security of contract he seemed underpaid and underemployed. A Professor did recently mournfully describe to me how a vast new exploited Academic Proletariat had arisen.
I suppose this class of Scholars must account for the tsunami of usually rather inconsequential esoteric papers which now appear daily on Google's Academia.com. It boasts 114,376,069 Scholars and counting.
We had a lively discussion till late about many matters Magical, Cultural and Political, touching on everything from the weird phenomenon of Professor Patricia MacCormac https://en.wikipedia.org/wiki/Patricia_MacCormack to Populism, a world going apparently mad, and my part in this.
All this behoved me to check my predictions for this era.
The Psychohistoric Mechanism of the Aeons, discovered in 1988 and published soon after in my Liber Kaos, predicted the Pandaemonaeon - an era characterised by the ascendancy of Scientific and Magical Thinking and the nadir of Art and Religion. It seems to have come upon us rather quickly, assisted by globalisation and the internet.
Mind you, I didn't say that everyone would necessarily like the Pandaemonaeon. On a broad raft of criteria some sociologists conclude that quality of life peaked in the technically developed world somewhere around the 1970's and that dissatisfaction has risen since. Most people have more stuff, but they don't seem to get any more satisfaction from it and their lives have become ever more frantic, complicated, and insecure.
Religion has largely ceased to engage with transcendental concepts. Theology (which always meant politics in the broadest sense) has now become overtly political, and religion now acts as little more than a social group identity badge. Religion no longer tells us a story about our inner self(s), it merely tells us which groups we belong to or despise.
Since humanity achieved the wealth and the technical ability to produce Art to any required degree of beauty and brilliance, Modern Art has abandoned any quest for meaning or spiritual uplift and now celebrates the empty rubbish of those whose talents remain limited to self-promotion, on the contra-intuitive principle that it must contain something worthwhile because of the price tag, even if we lack the wit to see it. Modern Art no longer tells us a story about human aspiration, at its best it merely illustrates human folly as artists become the keepers of useful sarcasms, along with our philosophers. Only the amateur and commercial art which does not attempt to mimic modern art seems to have anything interesting to say.
Science now tells us the dominant story about ourselves. We exist as randomly evolved mortal animals with unusually large brains, on an unremarkable planet in a stupendously vast universe. Deal with it.
Whilst I question the current official scientific creation myth (the Big Bang hypothesis), I do accept the above and I find the scientific story both liberating and exhilarating. I consist of the totality of what I do. I have no mysterious 'real self' or inner 'being' to worry about, but a lot of people seem to think they must have such a thing and today imagine that they express it through Identity and Individualism.
Yet the demands of individualism begin to outstrip supply in a demand-based consumer economy, and it becomes increasingly difficult to become a genuine eccentric as all eccentricities become Identity brands in a hyperconnected society.
The State has taken over so many of the legal and financial functions of the Family that few people now identify strongly with their Familial or Tribal status beyond what remains of it in the nuclear family.
Regional identities now seem quaint and faintly ridiculous in an era of mass travel and mass communication. Sports teams supposedly representing 'our' cities now draw most of their managers and players from distant cities and continents.
In an era in which we think we know so much, Nationalism and Patriotism have become unfashionable because few people particularly like their own governments or the way they run the country, they just despise other countries more, so they do not usually wish to define their Identity by it.
(The European Union has failed to raise any vision of a European Identity beyond that of an unloved common bureaucracy.)
Nobody really believes in anything about themselves. We have become Lost in the Cosmos, with no metaphors for self, we just have choices of individualism and identity, and mass exposure to everyone else's assigned or chosen identity.
Individualism in the age of Identity centres on trying to control how others regard you, not on how you regard yourself(s).
We must suspect those who preach their Identity loudest harbour the most doubts.
In this Pandaemonaeon, Identity/Individualism has become the Religion of the age because it has become fragile and mutable.
We now find ourselves passing laws to prevent anyone criticising anyone else's Identity.
Such laws represent the official theology of the religion of Identity.
The UK police now seemingly devote more resources to investigating everything on the spectrum from 'hate crime' to 'mild disdain crime' whilst theft, fraud, and violence frequently seem to go un-investigated.
In the new religion of identity, the cult of celebrity provides a rolling pantheon of minor deities that we adulate for a time and then discard or crucify with guilty pleasure.
The culture wars that rage within our societies, the polarisation of opinions, the rise of currently fashionable forms of victimhood and mental illness, the usually secret and officially sinful pleasures of despising other people's identities may all find their roots in the paradoxical relationship of Identity to Individualism and the increasing fragility of both.
Today we expect all of an individual's opinions to conform to a recognisable identity.
Extreme left, hard left, centre left, centre right. hard right, extreme right. Social liberal, social conservative. Economic liberal, economic conservative. Racist, culturalist, cultural-relativist, multiculturalist, anti-racist. Rights-based moralist, responsibility-based moralist. Social Darwinist, socialist. Theocrat, militant atheist. World destroying kapitalist, extinction rebellionist. Carnivore, vegan.
Express an opinion that someone considers to fall within any of these categories and they expect you to hold all the opinions that they think necessarily go with it. Of course, none but extremely right-on woke-ists or those right-off the other end of the scale hold opinions of such imagined coherence. Hitler practised vegetarianism for example.
The ascendancy of Magic in the Pandaemonaeon often passes completely unacknowledged unless you realise that the bottom line of magical thinking comes down to: -
'Thinking Makes It So'.
This may seem a completely deluded idea, but if handled skilfully it has enormous power.
Positive thinking can lead to extraordinary achievement, if you believe you can do something you increase your chances of accomplishing it. Negative thinking has similarly powerful effects, you can sabotage any venture with it. Placebos which we expect to work often have effects as great as treatments based on rational theories, and so do Nocebos. Curses and supposed pollutants which rationally should not have effects, can have quite damaging ones.
Thinking that you have helpful spirits on your side often gives you an edge over those who don't, particularly for those who made such spirits deliberately and magically.
Labelling phenomena by their supposed 'essences' makes it easier to agree or disagree with others or to persuade others about them.
The bullshit believed about any product tends to make it sell better than its objective properties. This applies to all commodities, - religions, scientific hypotheses, political parties, celebrities, and individuals.
We live in an era where commercial, political, and personal 'fake news' and propaganda dominate communication. We generally prefer this now because in conditions of massive information overload, most simplifications become welcome in themselves or afford us the pleasure of contradicting them.
The magical 'Thinking Which Makes It So' requires considerable skill and experience. Not everyone can write persuasive propaganda or advertising copy or even convince themselves of something without practise and help.
The pandaemonaeonic magician can hold mutually contradictory opinions and beliefs on a situational basis for pleasure and profit. Free from the illusion of unitary Identity and the struggle to maintain and defend one, the magician remains inwardly aloof in a fortress of supreme arrogance built upon the meta-belief that beliefs and actions shape reality.
The effects can seem parapsychological.