Vulcan-ology.
Dion Fortune always said that magicians should acquire varied craft skills. Retirement from commerce allows me to explore some grander projects I've always wanted to have a go at, so in addition to working on a life-size concrete over wire Mermaid/Britannia to sit by the ponds, I took a days course in Blacksmithing with the brilliant Artist Blacksmith Joanna Williams www.fireironart.com after a few practise pieces I tried making some pocket wands using various hammering and twisting techniques to create 'water twists' and 'pineapple twists' to suitable effect.
In the past I tried welding a couple of times and didn't enjoy it much with all the thick tinted goggles and visors and hot metal spattering, and arc welding proved even less fun, but Blacksmithing proved a joy I hope to repeat. There seems something so very elemental and historic about getting in there with fire and water and air to forge metal from the earth with hammer and tongs. Io Vulcan!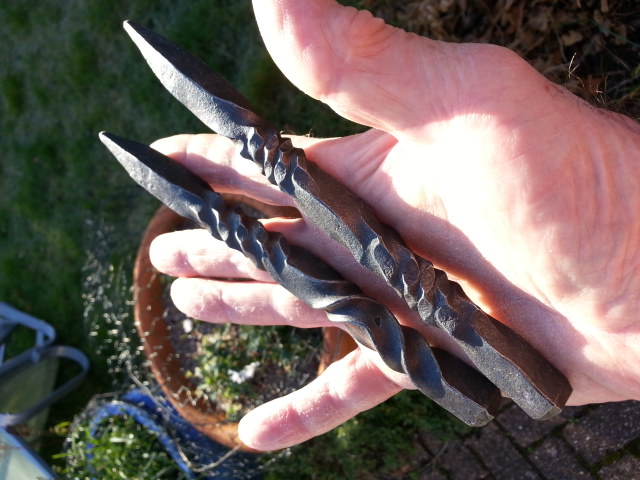 Magic and Physics News.
No real deep difference exists between these two subjects, they inform, rival, and complement each other. Physicists rebel against Magic, and 'A Witch is a rebel in Physics' as Thomas Vaughn observed. Both disciplines seek the knowledge and ability to understand and manipulate reality. Physics models reality in terms of Mechanism, Magic models reality in terms of Intent. The Mechanisms of any phenomena, from ourselfs to all things in material reality, equate to their Intents.
Arcanorium College has just welcomed Chaos Magicians and Physicists from Japan. The Japanese Chaos Magicians have a considerable active history which we in the west have remained largely unaware of until now.
Arcanorium's 'One Wand Three Spells' course provoked some very inventive wand design and results of spells continue to come in.
This continues to attract attention http://vixra.org/abs/1812.0155 and a recently established collaboration with a gamma-ray astronomer will hopefully led to some testable predictions for publication.
The hypothesis of Hypersphere Vorticitation continues to draw questions about how exactly do galaxies move around the cosmos. An exact visualisation of 4-rotation proves challenging, but the 'Hopf Keyring' provides a reasonable analogue. The galaxies rotate around orbits corresponding to the rings, all orbits pass within all the other orbits. Thus, although all objects move to their antipode positions over a period corresponding to the Hubble Time, objects close to an observer's antipode will appear to have a lateral motion of a tiny fraction of an arcsecond per century.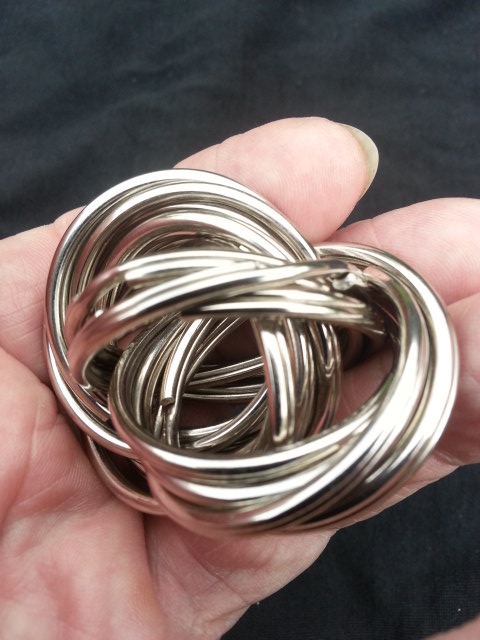 Deja-Review.
It proves very annoying to become mis-quoted or to write a manuscript review and find it edited in a misleading fashion. For this reason, the review appears here in its entirety - a fair and polite review of a rather pedestrian book which contains almost nothing new.
Hi Daniel, herewith my review. Perhaps you would care to add my Liber Null and Psychonaut to the bibliography. (He didn't)
Shamanic Qabalah by Daniel Moler provides an in-depth guide to the esoteric ideas and practices at the core of the magical revival in the western mystery tradition that began in the late 19th century. An earlier revival took place in the first two centuries AD in the form of Gnosticism, Hermeticism and Kabala, and these have heavily influenced western esoterics since their revival in the 1880s.
Moler points out that Shamanism represents the original wellspring from which all mystical and magical traditions around the world originate, and he integrates his extensive personal knowledge and experience of Native Andean Shamanism with his equally extensive knowledge and experience of the Western Magical Tradition to re-enliven the latter, to make it more accessible and less seemingly scholastic, and to add back a bit of the old shamanic and passion and fire to it, and to give it a social and ecological conscience as well.
Moler sidesteps the Neo-Paganism and Chaoism of the late 20th century revival and develops the Platonic Pagan-Monotheism of the first and second century revival and the late 19th century revival into a Pantheism with strong spiritual and psychological theme which seems destined to find its niche in the dynamic spiritual marketplace of the 21st century. Peter J Carroll.
On opening the Moler's book this truncated sentence becomes the very first thing you see: -
Shamanic Qabalah by Daniel Moler provides an in-depth guide to the esoteric ideas and practices at the core of the magical revival in the western mystery tradition. Peter Carroll.
Either Moler or Llewellyn publishers have responsibility for this misrepresentation, stick with respectable publishers.
Academia. The following may amuse: - https://www.academia.edu/35746068/The_Illuminates_of_Thanateros_and_the_Institutionalisation_of_Religious_Individualisation_preprint_
One for the archive.