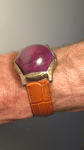 Hypersphere Mechanics.
Hypersphere Mechanics proceeds apace; if it doesn't get falsified then a book explaining the behaviour of both the entire universe and fundamental particles using the same principle may eventually emerge.
See the latest here http://vixra.org/abs/1612.0069 at the home of rebel scientific publication.
Every quantum has a spinning hypersphere in its heart.
I don't know where this will all lead; it began with a youthful intuition, when looking up at the stars having just learned about atoms. Hermes Trismegistus' assertion of 'As Above, So Below' added encouragement when I started to read Hermetics.
So far it has generated the result that the universe has no temporal boundaries, merely a temporal horizon, so it must have already spawned almost unimaginably advanced intelligences of almost unimaginable age. Quantum effects may permit communication….. and they may also explain the strange and erratic phenomena of magic.
A caterpillar inflicted moderate damage to the middle sized of the three mandrakes; I wonder if it got stoned whilst doing so, I repositioned it outside in the garden, having a moral rule against destroying higher life forms to save lower ones. Slugs and snails go into adjoining woodland. This rule of course allows me to eat anything.
When someone said that "90% of science fiction was crap" the Science Fiction writer Theodore Sturgeon replied "90% of everything is crap". This has become known as 'Sturgeon's Law'. It seems generally true, just look at most architecture, most books, most music, most of what appears on television, most of the things politicians say, most of the uninhabitable planets in the galaxy.
However it also seems a pretty hard law to live up to as it means achieving an average of two hours and twenty four minutes of personal excellence every day, a tough call.
Review. The Dr Strange film.
I had both eagerly awaited this and dreaded what Hollywood might do with it. The Dr Strange comics played some part stimulating my youthful interest in magic. As expected the film uses a vast amount of CGI to depict the effects of magic but these occur mainly in astral and mirror worlds or the dark dimension, so ordinary reality does not get too non-believably distorted. The 'Energy Paradigm', as they call it in magical circles, remains hotly disputed with many including myself preferring the 'Information Paradigm' in which magical 'energy' appears only as an imaginative metaphor for effects which do not actually depend on 'energy' at all.
The scriptwriting and storyline seemed both sufficiently similar yet interestingly different enough to the Marvel Comic stories to prove engaging, look out for some Lovecraftian touches to the plot. Plus it looked pretty damn good in 3D.
I don't know why the Eye of Agamotto appeared as green though.
P.S. For the wizard in your life get the Esotericon and Portals of Chaos, order soon for xmas. http://www.esotericon.org/