Toadmass has passed at Chateaux Chaos with seemingly fewer visitors this year, they have left their strings of spawn adorning the weeds. However we have had a better year for Newts, most evenings we see half a dozen or so paddling amongst the reeds conducting their elaborate courtships, they tend to stay longer in the water than the grumpy toads who cannot wait to crawl back to dank solitude beneath their stones.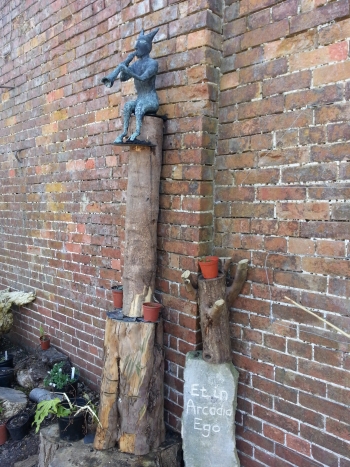 Above see a Puck/Pan figure fashioned to add a bit of classical grandeur to a garden, I do so abhor those mass produced garish garden gnomes, even the humorously rude ones. I made him starting with plasterer's steel mesh which I overlaid with 'Turdcrete' an experimental clay-like mixture of finely sieved fibrous sheep's wool and bracken compost, Portland cement, and black cement pigment, (handle with surgical gloves), he's verdigrissed to a faux-bronze finish with matte pale green patio paint. Et in Arcadia Ego. ' A brief paean follows: -
The Great God Pan is Dead, Yet Again and Again and Again
The human godbeast comes and it goes, Et in Arcadia Ego
Pangenitor, Panphage, All Begetter, All Destroyer
The omnipresent reality of sex and death.
Rejected by the otherworldly philosophers
Lost by the citified Neoplatonist abstractors
Yet still sacred to the Pagans – the country folk.
The Hidden God, the Soul of the Wildwood
Faunus, Sylvanus, The Horned God, The Christian's Devil
Herne, Cernunnos, Pan, Panic! – Witches!
Mahomet – Baphomet, God of Mistaken Identity
But full marks for Androgynous Deity.
Pan- the great All of life
Pan – Panpsychism, the magic forests live,
The world and the stars have life of a kind, but slower….
In the Romantic's dreams of Arcadian idyll,
And to Neopagans' delight
The Great God Pan Lives Yet!
- Always in our Genes and our Loins and our Hearts
Mind in body, body in mind, body and mind entwined.
As partly beasts, and partly gods we live.
Io Pan! Io Pan! Io Pan!
Project Pan-Epoch. Matt Kaybryn and I hope to release an e-read version of The Esotericon and Portals of Chaos in most of the worlds major languages within the foreseeable future. We already have volunteers for Polish, Spanish, Greek, and Portugese translations. If you would like to offer another please contact me at This email address is being protected from spambots. You need JavaScript enabled to view it..