An interest in Druidry has led me to an exploration of the 'Spirits of Place' of this area. The local Celts had a Goddess of the Cotswolds that they called Cuda. Cotswold probably means Cuda's-wold. Stone engravings of her still exist at Cirencester, the old capital of the Dobunni tribe hereabouts.
She appears as a goddess of prosperity and sits enthroned holding something suggestive of a baby or a loaf or an egg, and surrounded by three mysterious figures, the Genii Cullculati.
This area has remained prosperous for thousands of years. When the Romans arrived the Dobunni cooperated with them and the area became of of the most desirable 'suburbs' of the Roman empire.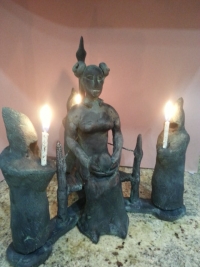 Today it remains one of the few areas outside of London where the economy remains upbeat. I hitchiked to this city of Bristol perched on the edge of the Cotswolds some thirty years ago with just my girlfriend, a sleeping bag, two hundred quid, and the prosmise of a friends sofa. It has proved bountifull for us beyond measure, and making this statue became an act of homage and thanksgiving for the prosperity and natural beauty of the area.
As we discussed the form She would like to appear in today we settled on a ramshorn hairstyle as a nod to the sheep-rearing that has gone on in these hills for millenia, the egg represents bounty both material and spiritual. The Genii can represent elves, Druids, landwhights, or maybe the hills themselves.
I couldn't resist giving the Genii candles in view of the season, I will take her to the midwinter solstice of the Grove on Sunday.
A Merry Solstice, Mithrasmass, Saturnalia, Christmas, or whatever you celebrate, to all my friends and colleagues and readers. Pete.
PS, see:
http://www.scirp.org/journal/PaperInformation.aspx?PaperID=48375#.VJPz9siA
and,
http://www1.maths.leeds.ac.uk/~amt6eac/threetime.htm
At least some respectable physicists entertain hypotheses of hyperspheres and three dimensional time.