Magic
Weisers, the publishers of the first combined edition of Liber Null & Psychonaut, plan to bring out a Classic Edition next year of this paradigm shifting book of magic which has remained in print and appeared in a considerable number of other languages since its first publication. The new cover design looks great, the contents will get an upgrade, and a suitably illustrious figure has volunteered to write a foreword to the new edition.
Work progresses on The Occultaris, a treatise on Natural Philosophy. This seems likely to send shockwaves through the fields of both science and magic which have become somewhat unnecessarily estranged for the last couple of centuries. The Occultaris explores the higher dimensional geometry of the Macrocosm and the Microcosm (The Universe and The Quantum Domain) and the esoteric consequences of a new model of each.
On a lighter note, 'Conversations with a Wizard', or something like that, may eventually appear as a book. What started as an e-mail interview has got a bit out of hand during lockdown. It has grown to about a hundred pages of biography, travelogue, recent magical history, and a lifetime of anecdotes and observations, and we haven't finished yet.
Sculpture
Beach detritus and DIY leftovers continue to inspire craftwork at our lockdown hideaway on a Welsh shore. Herewith the latest addition to the Lithonian task force, a hyperspace missile cruiser featuring a large bronze marine bolt which polished up nicely to form the bridge.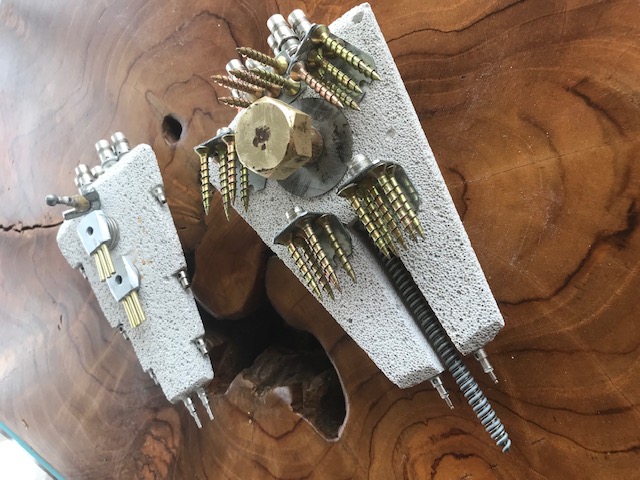 Politics
The EU makes an ass of itself over an UK-Eire border that nobody wants. Perhaps it seeks revenge for Brexit or to give notice that it will create trouble for any other country that tries to escape its synarchist clutches. The political capital of the EU has hit a new low with its dysfunctional response to the Covid crisis with the majority of the population of the EU now professing dissatisfaction with the entire rotten institution.
Historically, Catholicism has created a bloody fault line between Ireland and Britain. After partition, Eire became a virtual theocracy run by a viciously repressive and primitive manifestation of Catholicism that hideously maltreated countless women and children and arrested economic and social development. Thankfully, that has all become exposed now, and the clergy discredited. The Irish have turned away from ancestral faith and become a modern democratic and largely English speaking people.
The old atrocities and battles that took place between Ireland and Scotland, between England and Wales and between England and Scotland no longer influence relations between them. The war between Britain and Southern Ireland ended almost a century ago.
Does it now make political, economic, and geopolitical sense to extend an invitation to Eire to join the United Kingdom?
Alternative Physics
https://www.specularium.org/3d-time
Anyone for or against a Clifford Torus or a 3-Torus in curved three-dimensional space and curved three dimensional time as the basis for a Hypersphere Quantology without quantum chromodynamics?