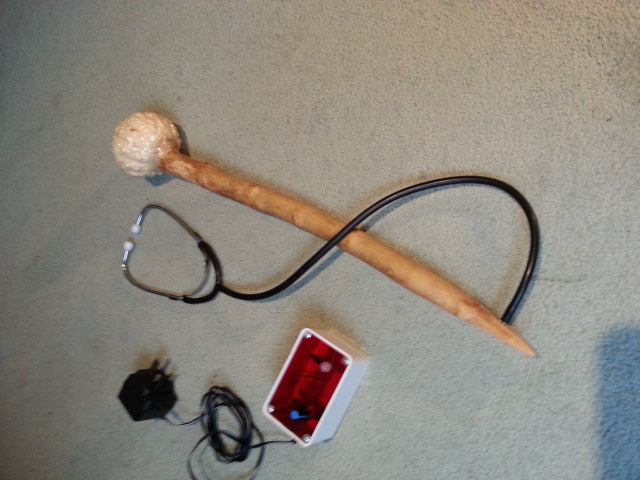 A fairly recently attended ritual featuring rattles and drums has inspired the construction of the Quadrophonic Asson shown here. This stimulates auditory apophenia and hallucination whilst for example invoking and questioning certain of the Elder Gods about matters of existentialism, spacetime, quantum geometry and other matters, as part of the Arcanorium College Necronomicon project.
It consists of a gourd grown in the gardens and hollowed out and desiccated with salt, before hardening within and without with a generous application of araldite. The gourd head contains metal discs, plastic balls, quartzite crystals and sand to give a fairly full spectrum of sound and a certain amount of piezoelectric effect.
The handle consists of hard driftwood found on my Welsh beach retreat and it has a stethoscope fitted so that each ear receives the sound through the air and through the tubes to provide a wall of sound effect. Note that the tube from the stethoscope should go into an open-ended cavity bored right through the handle rather than into a simple pit in the wood.
See also a miniature stroboscope made by a friend, this contains a tricolour LED in which all three colours fire simultaneously, an a-stable multivibrator and a NE5555 chip and it gives a 50:50 mark space ratio, use through closed eyelids only. Used in conjunction with the Quadrophonic Asson it enables the psychonaut to enter psychedelic space quickly and without neurotoxins.
The three dimensional time pages of this site will soon receive an upgrade. Three forms of mathematics seem available to describe quantum phenomena as hyperspheres, Clifford rotations, Quaternion or possibly Octonion algebra, and the Hopf Fibration notation. Other mathematicians now collaborate on this; let us see what emerges.
The Esotericon site went down as the artist neglected to renew it due to the pressures of a Master's degree. This created a temporary panic that The Esotericon and Portals of Chaos might have gone out of print, and prices reached U$ 1,600.00 on the net for a while. Nevertheless, it remains available at http://www.arcanoriumcollege.com/shop/ and my IT people will soon add some of the graphics salvaged from the old Esotericon site to these pages.
The Mandrakes (autumnalis variety) have finally gone to sleep for the summer after a good year in the greenhouses. Rich in atropine they provide a natural antidote to organophosphate nerve gases, another reason to treasure them in these troubled times of North Korean missile tests, although just how much you need to use remains uncertain.
The pond at Chateaux Chaos now has another magnificent toadpole fleet many thousands strong, these will not go on what would probably prove a suicide mission to the local community pond we built this year; it needs to develop more algal resources and weed cover first.
The worldwide marches for science last week give some hope that humans may use their precious resource of reason a little less sparingly. I love science, it makes life so much more interesting although not necessarily better, and it so often gets it wrong, diesel car anyone? Lambda-CDM big bang theory anyone? Phlogiston? Global warming?
As Lionel points out in MYOMT http://www.specularium.org/blog/item/217-my-years-of-magical-thinking-review we probably enter a new a phase of Magical Thinking where the power of belief and intent and post-truth thought will dominate over evidence-based thinking and the pace of science will slow rather than reach some sort of Kurzwellian singularity. It happened before in the first few centuries AD. Already we seem to have hit a brick wall of diminishing returns in many fields, we have abandoned supersonic passenger flight, crewed spaceflight, and any ideas of building a Larger Hadron Fiasco.
Powell observed that all political careers end in failure. Perhaps this occurs because they try to outlive their success. We can probably forget about UKIP now, as Nigel appears to have done, job well done and finished. Let us hope that Mrs May secures a landslide in the UK before taking on the EU. A win for Marine le Pen would certainly make Brexit negotiations easier by further undermining the failing EU in advance. Unfortunately, the French will probably bottle out in fear of their German masters and elect the Synarchist Europhile Macron instead.