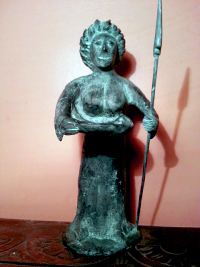 As no tenured academic seems to want to risk career suicide by endorsing the following scientific paper for journal publication I release it here into the public domain for free use.
http://www.specularium.org/hypersphere-cosmology
It's located on the Hypersphere Cosmology section of this site.
Unfortunately its radical conclusions may invalidate the current work of some 20,000 or so theorists, however it will give them plenty to do with the rest of their time.
Perhaps doubly unfortunately this all comes from an old style Natural Philosopher and Wizard, but don't let that inhibit your rigorous investigation of the maths and physical principles that it implies.
And on a lighter note see my impression of Sulis, Goddess of the hot springs at Bath, 1st century romano-celtic bronze in the neo-barbaric style :) actually rendered in milliput and steel wire framed, black lacquered and verdigrissed, I hope they like it at Grove. Impression of Lugh to follow.